September 30 - October 3, 2009, Adam's folks came to visit to meet Miss Raven for the first time, and of course, hang out with Darling Julia.
They arrived on a Wednesday and we enjoyed time together. Of course, Adam's mom made yummy treats and cooked dinner and whatnot for us, which was fantabulous. :) We also took a trip for the first time to the new Bass Pro Shop in Des Moines (I am in love.) and also to a great BBQ place though it is not very kid friendly and I ate my BBQ faster than the speed of light because Raven was screaming to be nursed. And I sat next to Julia. In a tall chair. It was a little wild.
At any rate, we had a great visit with them. Unfortunately Buscha's desire to take Julia on excursions and whatnot about the town were quite inhibited by the rain we had EVERY DAY they were here, but otherwise I'm thinking everyone had a good time. And of course we had to take some pictures!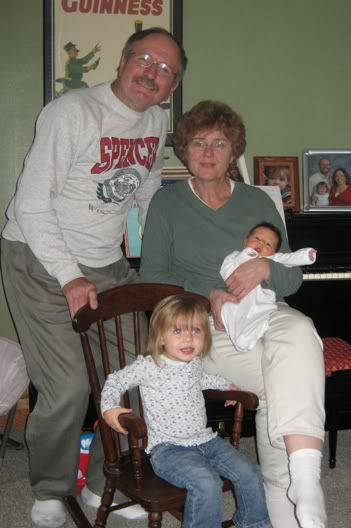 erin