Where as the time gone?
In 13 short days, our little baby girl will be 9 months old. WOW!
(In 8 short days, I will be 30. Imagine that?! A note: It doesn't bother me one bit, so don't think that razzing me is going to do anything. Ha.)
I've been absent from blogging the last couple of months; I have much to catch up on! We have been busy this summer... enjoying each other, enjoying traveling (as much as we can with a 8 1/2 month old)... summer really does fly by anymore! However, I would be lying if I told you I wasn't looking forward to the cooler months of fall, the smell of the leaves, and the overall crispness of the air.
(I was not made for hot & humid, I fear. Unfortunately my dear husband has no desire to move to northern Canada.)
Recently I have started a weight loss challenge with a gal that lives in Dallas that I met online through a 'Birth Month Board'. Don't worry, we've 'known' each other for 17 months now. Whoever loses the challenge, which ends on October 25th, travels to the winner's house for baby's first birthday party. I'm so excited! Either way I get to meet my friend Charity and her daughter Mia, but also, I am losing a few pounds. When the stakes are high enough... ha.
Either way, I have been doing really well, but today I want to eat. I'm not really all that HUNGRY, but food is enticing me today. I am trying very hard to remain 'good'.
This last weekend I spent more time than normal watching TV... due to the Olympics starting. I don't know if it's that we have a baby now or what, but suddenly, after not showing much interest for the last 15 years or so, I am suddenly back into the Olympics and cannot turn it off. Julia was content to hang out with mommy and daddy, play with her toys, and try to pull up on us. It was really cute. Saturday morning I also had to opportunity to go to the Farmer's Market in Des Moines with my friend Melissa. There's nothing like getting up at 5 am on a weekend day... even when I hardly did anything all day, I still felt 'accomplished' for having gotten up so early. Well, that, and ironing a load of clothes. :) I didn't buy much at the Farmer's Market, but it was fun to see what was there. I'm looking forward to when squash is more readily available.
Here are a few recent pictures of Julia... I will post more about recent trips, etc., but I wanted to put these up here for you to see. Another of my online friends, Kim, made tie dye onesies for anyone who wanted one and they turned out super cute... or at least I think! :)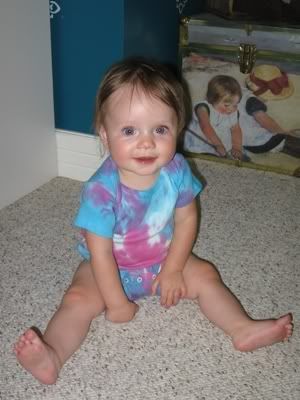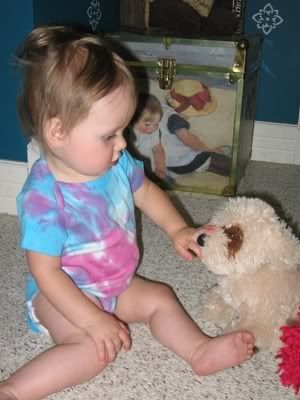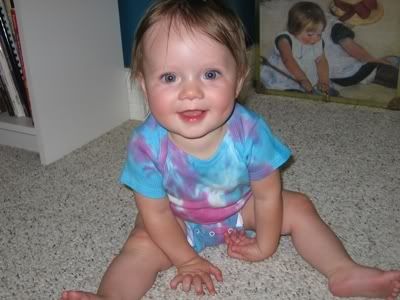 Ta ta for now... I'll be back with more throughout the month...!
erin