Oh...! Did you think we invited you to a BIRTHDAY party today? Ha, ha, jokes on you! Today is really a PIANO MOVING party!
This last week, both on separate days, Adam and I saw a piano in the neighbor's garage. Knowing that they were having a garage sale on Saturday, I popped over Friday to inquire about the piano, and learning that it was FOR SALE, I asked the cost. Upon finding out, I exclaimed, I want it! I'm buying it! (WITHOUT CONSULTING MY HUSBAND!)
After Adam arrived home Friday night, I found that we both had seen potential in the piano but hadn't talked about it, so it was fun to find out that Adam was as interested as I was. Saturday morning, so as not offend anyone coming to purchase the piano, I walked over to the garage sale, waited dutifully outside, and upon opening of the garage door, I walked to the table, whipped out my checkbook, and wrote a check. Then I went home and made a SOLD sign for it. Thank goodness I was so quick to do this... I found out yesterday that a number of people came to the garage sale wanting to buy it. Yay!
You might know that we already had a piano. It was Adam's great-aunt Evelyn's piano, and we've had it since 2003. Upon deciding to buy the neighbor's piano, Adam called his siblings to see if anyone wanted Evelyn's piano, and tomorrow Adam's parents are taking the piano home to Sister Claire.
We are excited about our new piano... but it is BIG and HEAVY (and BEAUTIFUL!). Might have to re-arrange the living room again.
Here are a few pictures... it's hard to see the piano being moved... it took A LOT of guys to move it... taking the old piano out only took four people... as you can see, it took a lot more to get the 'new' one in!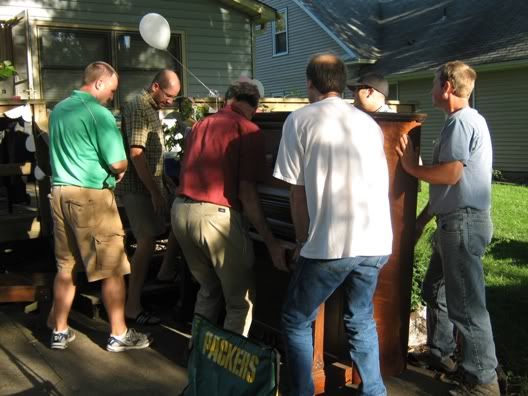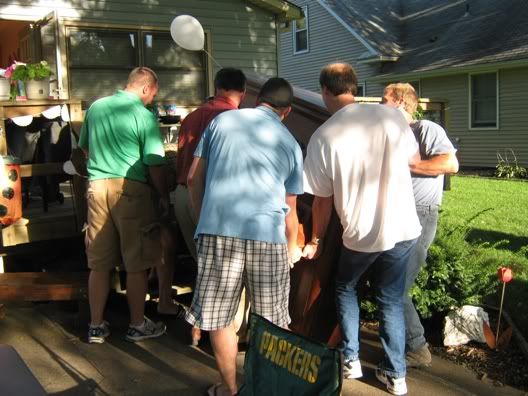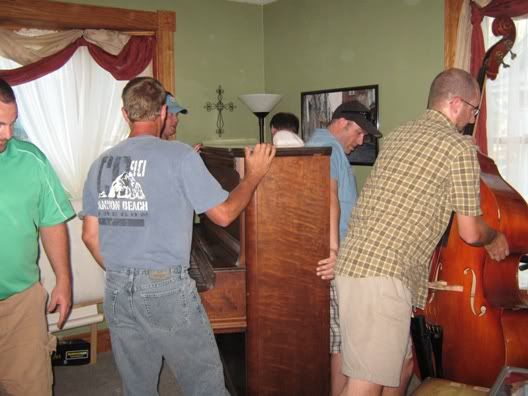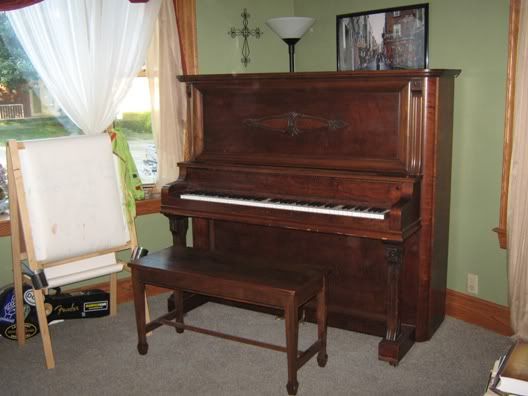 A big THANK YOU to all of the guys at Raven's Party (I mean, the Piano Moving Party) who helped moved the Behemoth into the house! It is greatly appreciated!
erin