Wednesday, May 12, 2010
On Wednesday, we had decided that we would go to Savannah with Melissa and her husband, Ty. I've always wanted to go to Savannah, so I was very excited to finally be spending a day there.
We planned to meet Melissa and Ty at the Moon River Brewing Company around noon, so we left early and arrived in Savannah to drive around a bit and see the town.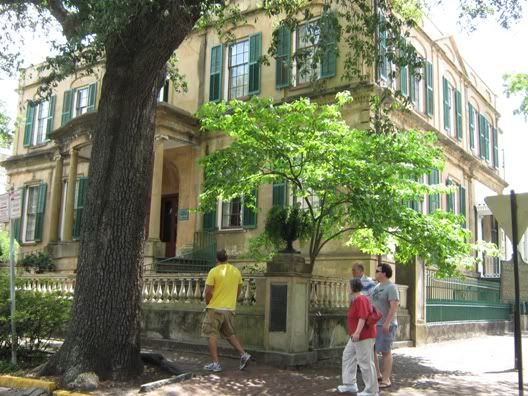 Our first stop was
Bonaventure Cemetery
. Bonaventure has been around for a couple of centuries, but it became more popular when the book, "Midnight in the Garden of Good and Evil", was written by John Berendt. I have always wanted to see this cemetery since reading the book; it has a mystic quality about it.
Some "famous" people are buried there; I honestly have no idea who they are. There is also an older neat cemetery in Savannah that we didn't get a chance to visit (though we drove by it). However, there were a lot of neat grave stones/markers.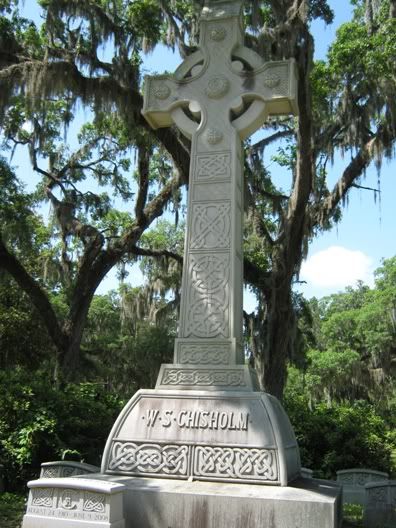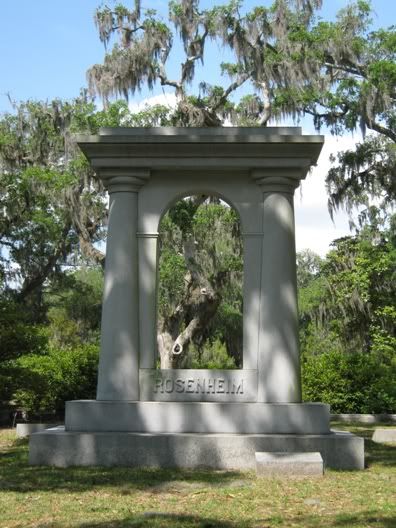 I was quite intrigued by this picture, as Julia's name is Julia Morgan, and the name Julia is based from Julius for Julius Caesar.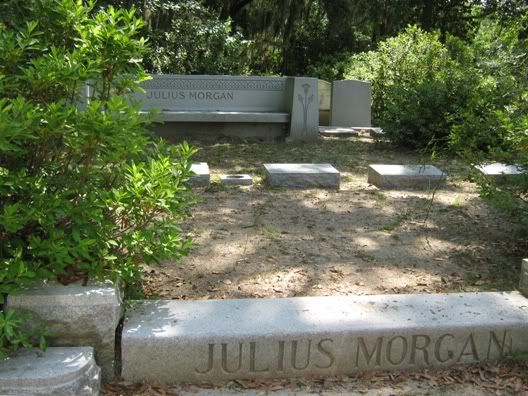 Also, whether you know or not, the south is famous for Spanish Moss... and we saw it everywhere! The live oaks were covered with it and of course we had to check it out.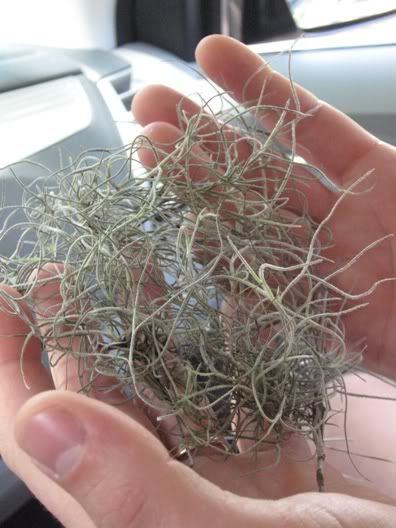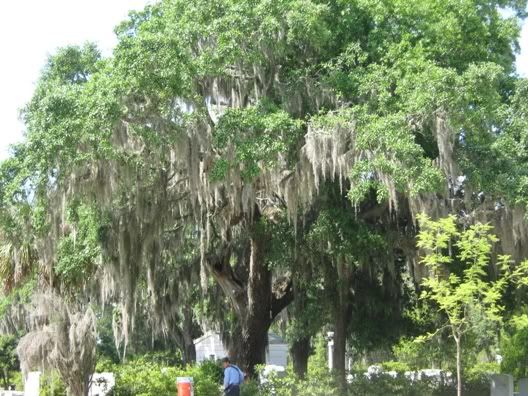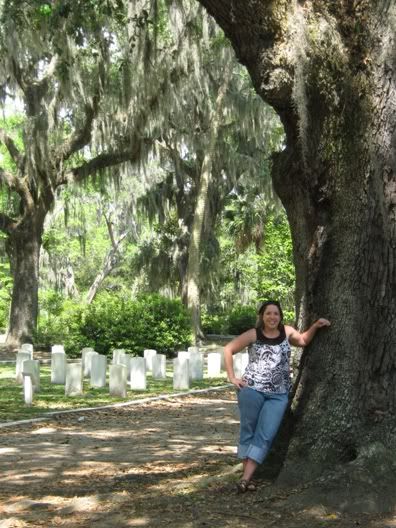 After visiting the cemetery, we enjoyed lunch and beers at the
Moon River Brewing Company
.
After lunch we headed down to River Street with Ty and Melissa and we really enjoyed our time there. We were able to carry alcohol on the street in plastic cups, so Adam had a beer and Ty, Lis, and I had daquiris. Julia had a fabulous time looking at the water, boats, etc. There were a few times I was afraid we might lose her over the edge.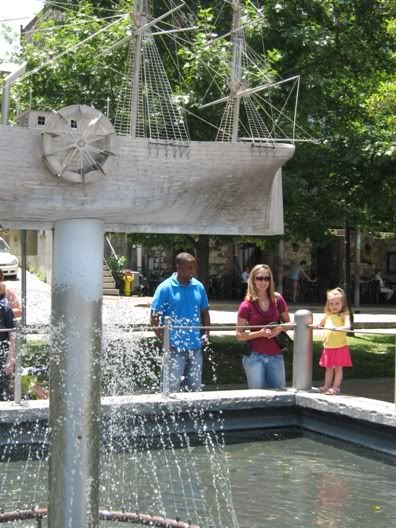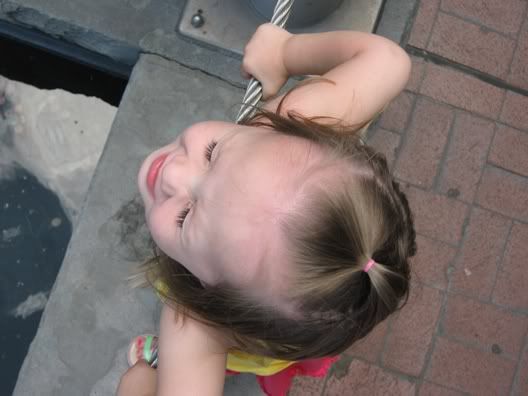 After we left River Street, we drove out to Tybee Island. What a neat place! We drove to the end of the island and walked out to the beach. While there, we learned about sand dollars via a bulletin board... but it wasn't until Thursday that I learned about the "holes" in the sand... in the picture below, you might be able to see "holes", and we learned from my sister that those are breathing holes for sand dollars.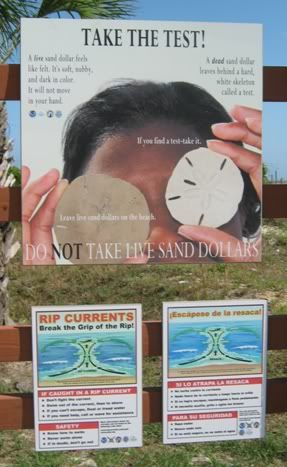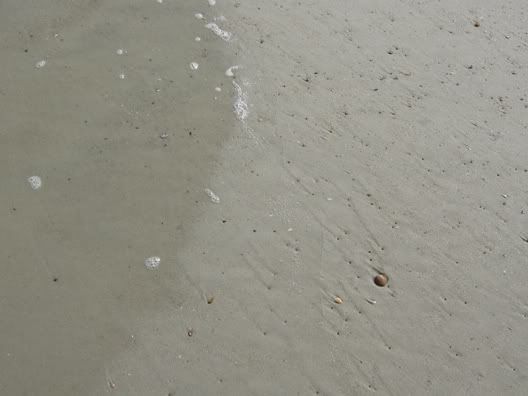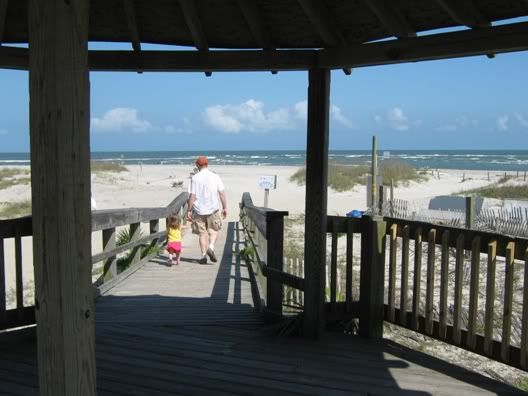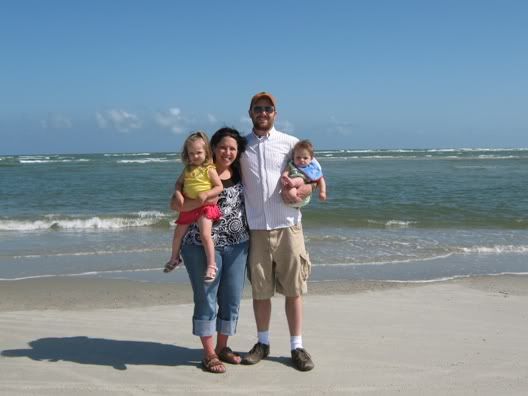 After Tybee Island, we ate dinner at Tubby's seafood restaurant in Thunderbolt. Yum! We had a great time there!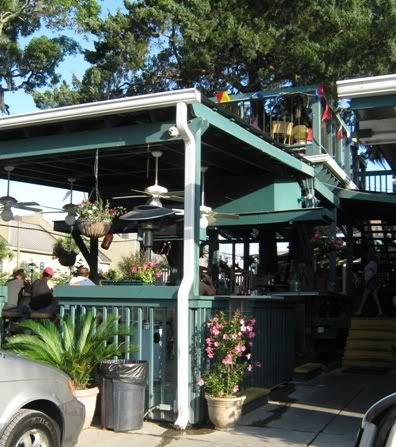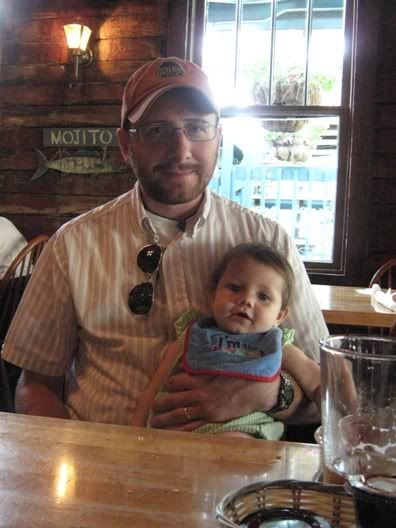 Julia loved the fish on the walls and was wowed by all of the fishing implements on the walls. Hee! This was when Raven started to show interest in table food... and she only got more ravenous after this date!
We drove back to Jesup that night and we were T-I-R-E-D! Time to rest and gear up for another beach day the next day!