Tuesday, May 11, 2010
Background Info: I may have written about this at some point, but it bears repeating. In March 2007 when I found out I was pregnant with Julia, I joined an online birth club. Joining that birth club eventually led to joining an exclusive online group of women from across the United States and Canada. At this point, there are 24 of us that keep in touch on a daily basis. Many gals have met over the last few years, and if you recall, last summer, Julia and I flew to California to meet two of the girls. In April this year, I went to St. Louis and met another group of them. Since we were going to be in SE Georgia, one of the gals knew we would be semi-close, so we decided to meet for the first time on our vacation. This day of our vacation was ours to meet with Laurie from South Carolina and her son Aidan.
We left early Tuesday morning to drive to Hunting Island State Park in South Carolina, which was about a 2.5 hour drive from my sister's house. It was already a gorgeous day in the low 70's and the drive was fun as we drove through a early-settled part of the United States (example, Beaufort was founded in 1711). Already we were introduced to the culture combined with the landscape and throughout the trip I marveled at how it all worked so beautifully together.
Entering Hunting Island was a sight to behold... neither Adam nor I had ever seen a forest of palm trees before... ever. It was amazing!
Our plan was to eat lunch and spend the day at the beach together, and it was so much fun! It was wonderful to meet Laurie... she is as sweet as can be and I am so happy for her as she is expecting a new baby boy this summer. Aidan was a lot of fun too and between Aidan and Julia, they kept Adam quite busy that day while Laurie and I chatted on the beach blanket with Raven. (Laurie and I also ventured down to the water occasionally and introduced Raven to the ocean too.)
In this picture you can somewhat see the palm "forest".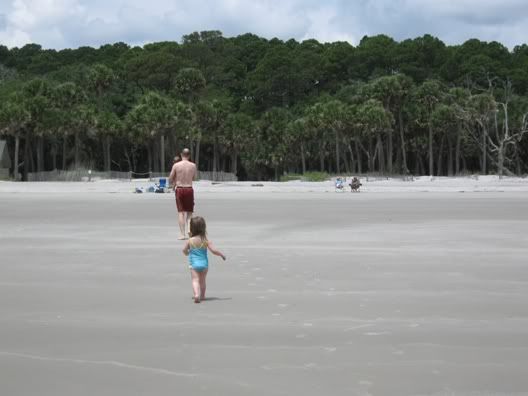 Adam and Julia look for shells.
Aidan investigates and helps dig up shells.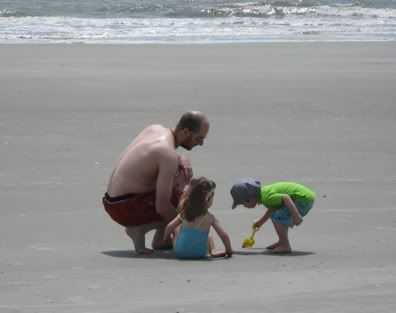 Adam and Julia run along the surf.
Aidan, Julia, and Adam build a sand castle.
Julia and I test out the water together. ("Mommy, yuck!"... she got a bit of sea water in her mouth!)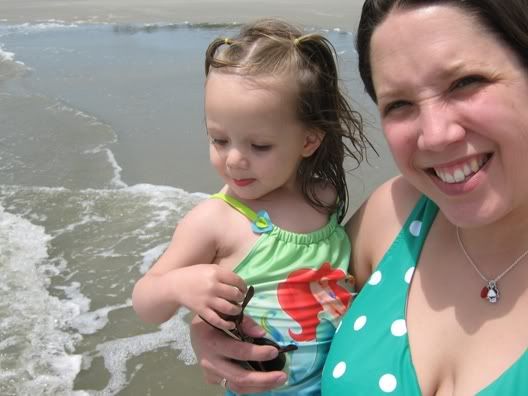 Aidan and Julia each take turns at walking around in Adam's flip flops.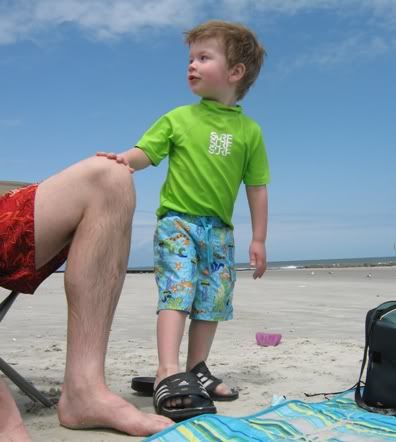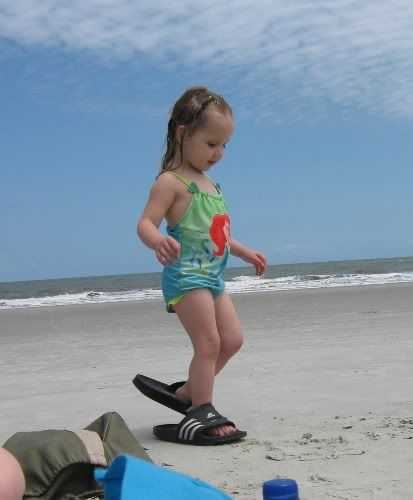 Aidan and Julia take off a little ways away and find a fluffy sand spot where they roll around, chat, giggle...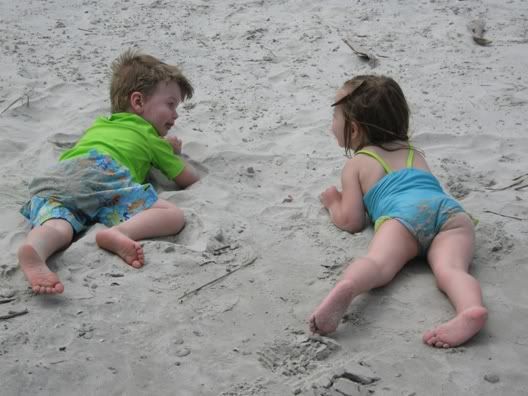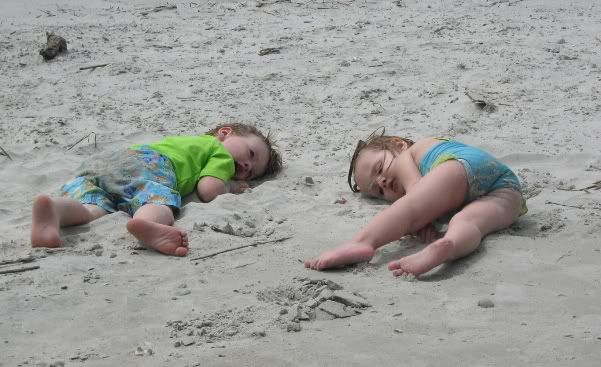 ... and pretty much are covered in sand from head to toe.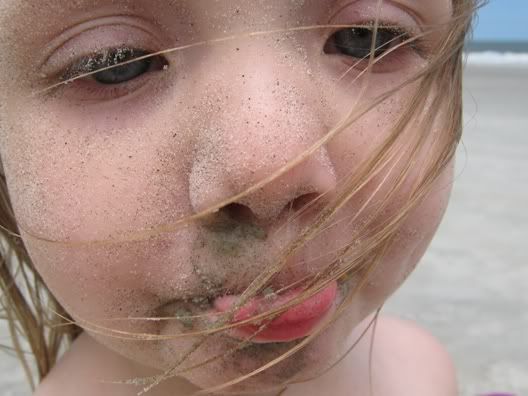 Raven had fun at the beach too... and Adam was even able to get her down for a nap with the help of a towel and his cap while Laurie and I played in the water with Aidan and Julia.
Laurie and I at the end of our day together... I'm SO glad I got to meet her! YAY!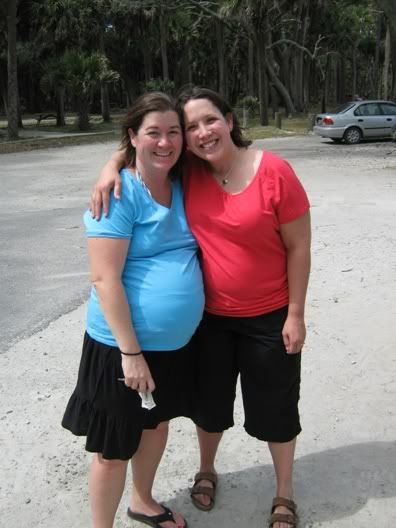 A side note... on our way out to Hunting Island, Adam met a fellow Packer Fan in the parking lot of a grocery store in Richmond Hill. He mentioned that he owned a pizza place. On our way back to my sister's, we stopped in Richmond Hill for dinner at The Upper Crust. The guy had mentioned Packer memorabilia to Adam... he wasn't kidding! There were two walls of it! :)
erin